Alternative meeting point
Plan is to meet Friday morning 7 AM at the Texaco gas station in Trona.
In case you miss the first meeting point you could meet the group at our alternative meeting point - an intersection in Panamint Valley specified below. Follow the red line.
Driving time from Trona: About 50 minutes.
The group will be following the yellow route through Slate Range.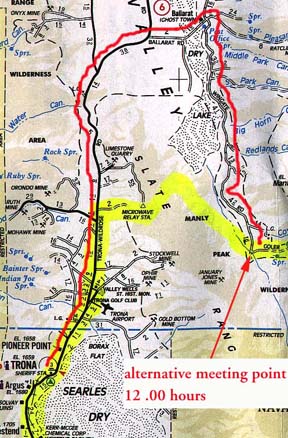 Just in case the group arrives at the 12.00 hours meeting point very early we might continue on without waiting. We will leave a note stating the time we came through. It will be easy to catch up with the group while going up Goler Wash. You'll definitely catch us at lunch. Our lunch spot will be Barker Ranch (Charly Manson hideout) .
GPS coordinates for meeting point:
N 35 51.528
W117 23.677

for Barker Ranch
N 35 51.577
W117 10.792