How to make 35" tires work on a G
How do you fit 35 inch tires on a G?!

This description is for the 460 series - the 463 has more room for large tires anyway.

The rear fenderwell is large enough.
The front fenderwell needs a few cuts as described below to allow for unrestricted movement.

Backspace (ET) of the rims should be as close to factory as possible - otherwise the tires will stick out somewhat. Mine stick out as you can see on the image at the end of this page. I prefer narrow rims of about 8 inches to protect the rim from rocks. Bolt circle is 5 on 130mm (yes, some Porsche rims will fit). More abour G wheels here.

With every inch of tire size increase over stock size you will lose 3.5% of torque.


To make up for that you must to install 6.17:1 ring & pinion and install a more powerful brake booster.

...
To help create more room in the fenderwell and to gain clearance in general I recommend red (3 III) or white (2 II) springs.


Shocks are not really needed, but to control the increased unsprung weight I recommend heavy duty MB shocks (Sachs).

A new spring for the brake proportioning valve needs to be installed and properly adjusted.
Keeps the rear from getting too much brake power.

You will have to closely monitor your front wheel bearings when the new tires stick out a bit (like mine) - bearings will fail sooner.

Also, you will notice that your left front tire will stick out a little further than the right - in the rear the right tire will stick out further than the left. This is due to the taller springs and the panhard rods pulling in different directions.
This sheet metal lip needs to be cut off :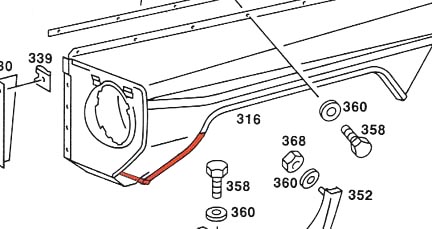 These tubes (supporting the body) need to be cut diagonally as close to the body mount as possible: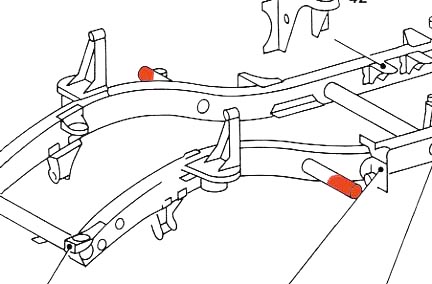 Here is how the G looks when you are done:
I have driven this setup for 13 years without any handling problems - in fact handling was much crisper after the modification. Off-road performance went from brilliant to awesome.
Parts needed:

6.17:1 ring and pinion
602 350 28 39 rear
601 350 29 39 front
(37 ring to 6 pinion)

shocks:
004 326 13 00
004 323 78 00

Larger brake booster
A002 430 90 30
master brake cylinder:
FAG S5514

for lwb:

rear springs:
front springs

white
460 324 05 04 (soft) rear
460 321 04 04 (hard) front
or
red
460 324 08 04 (hard) rear
460 321 05 04 (soft) front

all available springs

spring for brake
proportioning valve
460 427 02 21

for swb:

rear springs: front springs

white

460 324 05 04 (soft) rear

460 321 04 04 (hard) front

or

red

460 324 08 04 (hard) rear

460 321 05 04 (soft) front




spring for brake

proportioning valve

460 427 02 21
Gelaendewagen repair manuals available
More pics: Rubicon, Baja, Anza, Shower, 280GE crash, Moab, ML vs 300GD, more ML vs G
| HOME | | who invented 4WD ?| | G history | | important links |
| G-Wagen repair manuals | | |
© 1998-2020 Harald Pietschmann
Copyright © 1996-2020 Harold Pietschmann. All rights reserved.